Greater Tyler Auto Auction uses the Auction Edge platform of applications from Auction OS for Day to Day Operations, Simulacast Powered by Velocicast for our weekly Tuesday night Online Auctions, and Edge Pipeline to put our Online Auction to dealers around the country!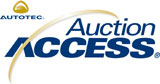 Greater Tyler Auto Auction is now accepting all AuctionACCESS cards. We can handle all of your AuctionACCESS needs quickly and efficiently. AuctionACCESS is the number one dealer registration system in North America. With AuctionACCESS, you can get registered at our auction very easily. You will be buying and selling cars in no time! If you are in need of an AuctionACCESS card, speak to one of our customer service experts to get you set up and have an AuctionACCESS card made for you.
Check out the benefits of AuctionACCESS to see what having an AuctionACCESS card can do for you.

Autoniq's Global Market Report (previously "Market Report") shows actual wholesale auction pricing for vehicles sold. It is a combination of the individual transaction level wholesale data from all major wholesale and independent auctions. It covers approximately 95% of wholesale vehicles auctioned in the United States.
OVE is a 24/7 online auction. Dealers can buy and sell online anytime. Greater Tyler Auto Auction is proud to say that we can now handle all of your OVE needs and services. Simply add us to get started using OVE with us. If you have any question regarding OVE, call the office at 903-597-2800 during business hours and we can assist you in getting your vehicles onto OVE.com
Flooring Companies